Argento & Battista, LLC
Argento & Battista, LLC is a full service boutique law firm that makes client attention, responsiveness and service a top priority. The legal professionals of the Argento & Battista, LLC are committed to forming long-term relationships with clients by providing creative and smart solutions to the legal hurdles facing clients.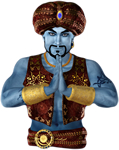 Junk Sale Genie
Our goal at Junk Sale Genie is to help you find that unique or rare item you have been looking for at yard sale prices! So, check us out and receive a FREE GIFT with every order you place at Junk Sale Genie. Many items on this site are used, but in good to excellent condition. We do not sell damaged or broken items. We also sell new items and they will be designated as such in the product's description. We consider an item to be new no matter how old it is, as long as it has never been used and is in it's orginial packaging. Remember to place as many items as possible on one order, since shipping costs are usually greater than any item we sell here.
Bluehost Web Hosting
Bluehost has been providing quality web hosting solutions to businesses and individuals since 1996. Our goal is to provide outstanding services for the best possible price. To achieve these goals we are constantly innovating and upgrading our services at no additional cost to our customers. Come and join the millions of other website owners that have already chosen Bluehost and see how we can help you with your site. Our technology is really what sets us apart from other companies. We have our own datacenter, we build our own servers, we have our own nationwide fiber network, we build our own custom linux kernel. In short, because we handle every aspect of your hosting you can feel confident that if there is a problem that you won't have to deal with 5 different companies to get your problem solved.
FatCow Web Hosting
A Leader of the Herd - Small Business Hosting
Since 1998 the FatCow Web Hosting plan has provided reliable hosting services for individuals and businesses. Whether you're looking for a small business web host or domain name for your business?FatCow has the service and experienced team to support you!
Constant Contact
Tools and solutions to grow your business or organization: Email Marketing, Event Marketing, Online Surveys, Social Media.